About Colombo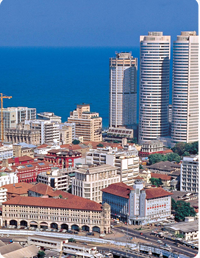 Colombo is the commercial capital and largest city of Sri Lanka. Colombo, a starting point for most tourists – however a must stay with a mixture of modern life and colonial buildings vibrancy and ruins.
The name 'Colombo' was first introduced by the Portuguese in 1505 and is believed to be derived from the classical Sinhalese name 'Kolon thota' (port on the river Kelani) or 'Kola-amba-thota' (harbor with leafy mango trees).
Due to its large harbour and its strategic position along the East-West sea trade routes, Colombo was known to ancient traders 2,000 years ago. It was made the capital of the island when Sri Lanka was ceded to the British Empire in 1815, and its status as capital was retained when the nation became independent in 1948. Colombo remains both the commercial and financial capital of Sri Lanka even after the administrative capital was moved to Sri Jayewardenepura Kotte, a suburb east of the city.
The city offers historical monuments, colonial architecture, beaches, and fine dining and shopping. Its architecture has been influenced by Portuguese, Dutch, and British colonization. The British influence is clearly visible in the buildings located in the Fort, an area where the larger business houses and the stock exchange are situated. Close by is Pettah, a bustling marketplace with each section of the bazaar selling its own specialty, ranging from food items to shoes to gold; wholesale markets are found here.