ComtecMed is the official Travel Agent for the 3rd World Congress on Controversies in Neurology (CONy) and is offering special reduced rates for Congress participants:

Official Congress Hotel

Category

Single room

Double room

Location to Congress Venue

Standard Room

€ 149

€ 159

Congress Venue

Executive Room

€ 179

€ 189

Congress Venue

Rates quoted are per room, per night, including breakfast and VAT

Additional hotels in different categories are available upon request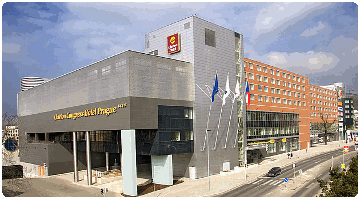 We strongly advise all participants to reserve hotel accommodation as soon as possible in order to benefit from the special rates.

Reservations will only be confirmed if credit card details are fully supplied or alternatively a bank transfer of the total amount is received.

For participants paying by credit card, a deposit of 200 Euro per room will be charged upon booking, and the balance will be charged automatically two months prior to the Congress.

Each participant will receive individual confirmation, indicating the name and address of the hotel. Reservations will only be final upon receipt of the corresponding deposit.
Late Arrival/Early Departure fee
Guests arriving later or leaving earlier than the dates indicated in their reservation form will be charged for the full amount of their accommodation. No refunds will be made.
Written changes or cancellations should be sent directly to ComtecMed.
Please do not contact the hotel directly.

Cancellation Policy for Accomodation
Cancellations received:
4 months prior to arrival - full refund minus 50 Euro handling fees
2 months prior to arrival - 50% refundable deposit
Less than 60 days prior to arrival - non refundable
In the event of a non-show, the hotel will automatically release the reservation and payment will be non-refundable.

Important Notes
ComtecMed and their agents shall not be responsible for and shall be exempt from all liability in respect of any loss, damage, injury, accident, delay or inconvenience to any person, or his/her luggage or any other property for any reason whatsoever, for any tourist services provided. Personal travel and health insurance is recommended.